Implant Dentures – Gorham, ME
The Long-Lasting Solution for Loose Dentures
As a team of dentists in Gorham with many years of experience restoring smiles, we've seen how life-changing dentures can be after tooth loss. But there's been one advancement in dentistry that makes them even better: dental implants. By firmly anchoring a denture in place, implants eliminate the tendency of traditional dentures to become loose or ill-fitting over time. If your denture isn't as strong or stable as you'd like, give us a call at Morgan-Hill Dental Care to schedule a consultation. We'd love to show you how implants can make your dentures feel like new again.
What are Implant Dentures?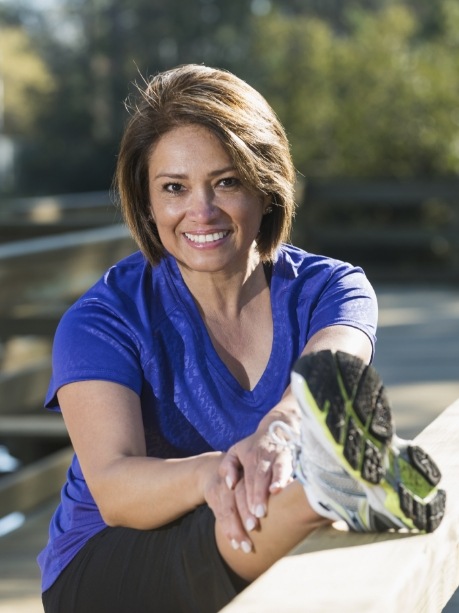 Implant dentures work much the same way as traditional dentures, with one key difference: Instead of being held in place with suction and adhesive, they're held in place with implants. There are two main types, both of which are explained in more detail below. During a consultation, we'll make a recommendation about which one is right for you.
Fixed/Permanent Implant Dentures
One of the implant denture options you can choose from is a fixed implant denture, which is "bolted" into place and must be removed in our office. This can make oral hygiene simpler at home since you won't need to remove your denture to keep it clean.
Removable Implant Dentures
The second option is a removable implant denture that you can take out and put back in yourself. This denture is more ideal if you do not have sufficient bone tissue to receive as many implants that would be required for a fixed option.
The Implant Denture Procedure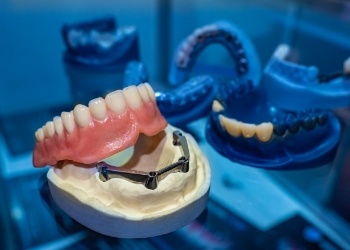 After we've made sure that dental implants in Gorham are right for you, the procedure is done in phases:
In some cases, we'll need to do treatment beforehand such as extractions or bone grafts.
The first step is a small, in-office surgery to place the implants in your jaw, which we can do here so you won't have to go to a different office. Typically, just 2-6 implants are needed per arch.
After the implants are placed, it will take 3-6 months for them to integrate, or fuse, with the surrounding jawbone. During this time, you can use a temporary denture so you don't have to be without teeth while waiting on your permanent one to be made.
Lastly, once everything has fully healed, you'll come back to get your permanent denture. We'll show you how it fits with your implants, make sure everything feels great, and answer any questions you have.
Am I a Candidate for Implant Dentures?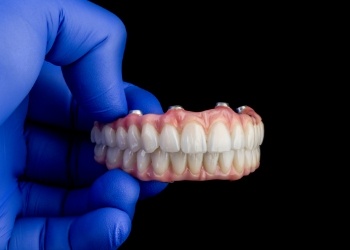 Everyone has a unique set of circumstances, so we'll evaluate your individual needs to make sure an implant denture is right for you. Here are a few things we'll be looking at:
Medical and dental history
We'll determine if you have enough healthy jawbone to support an implant (if not, we may recommend a bone graft)
Oral hygiene habits
Gum health
Lifestyle choices (e.g. tobacco use)
Benefits of Combining Dentures & Dental Implants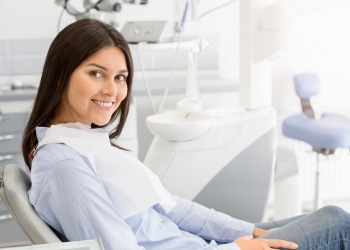 Simply put, combining dentures and implants gives you the best of both worlds. Here are just some of the benefits you'll get from an implant denture:
The need for messy dental adhesive is greatly reduced or eliminated.
You'll have much more confidence and won't have to worry about "slips" during meals or conversations.
You'll have more chewing power to eat your favorite foods.
Your dentures will fit better, both now and in the future, so you won't need costly adjustments nearly as often.
We want all of our patients to have a smile that they feel good about. With dental implants, we can help you get the most out of your dentures and improve your overall quality of life. Want to know more? Don't hesitate to get in touch!