Dental Crowns – Gorham, ME
Customized Crowns To Restore Your Oral Health
Patients sometimes get worried when they hear that they need a dental crown in Gorham because they believe people will be able to tell that their tooth has been repaired. Fortunately, at Morgan-Hill Dental Care, we use natural-looking materials that are able to mimic the quality of home-grown enamel by reflecting light. That's because we want our patients to not only have strong, restored teeth, but also have a smile that they still feel proud to show off. If you have a damaged or severely decayed tooth and could benefit from a dental crown, don't hesitate to contact our office today.
Why Choose Morgan-Hill Dental Care For Dental Crowns?
CEREC Same-Day Restorations
Natural-Looking, High-Quality Dental Materials
Digital Impression System
What are Dental Crowns?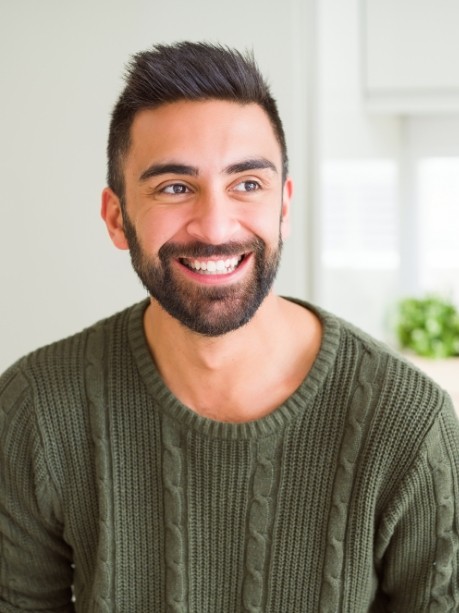 Dental crowns are small caps that are customized to fit over the biting surface of your teeth to provide it with additional strength and protection. They act to repair the shape, size, and structure of your teeth so you can continue using them as you normally would without experiencing uncomfortable side-effects due to a weakened structure. That way, you can chew your food without having sharp pain caused by tooth sensitivity.
Crowns are incredibly versatile restorations that can be made from a variety of materials, including metal, ceramic, and porcelain. However, we typically craft them from natural-looking substances so our patients can smile without feeling self-conscious about having a piece of metal in their mouth.
Why Do You Need a Dental Crown?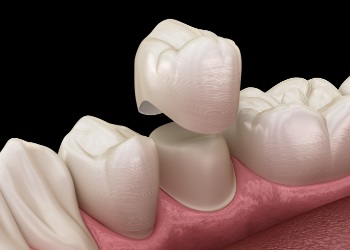 We recommend dental crowns to our patients for a variety of cosmetic and restorative reasons. Some of the most common situations in which we may suggest a dental crown include:
A Severely Decayed Tooth: If you have a tooth that has a large dental filling in it, we may recommend placing a dental crown over top of it to hold it securely in place.
Forced Trauma: To repair and support severely broken teeth, dental crowns are often recommended.
Root Canal Therapy: After root canal therapy, we often top our patients' treated teeth off with a dental crown to restore the structure and strength.
Fixed Bridges: Patients who have missing teeth can benefit from a fixed bridge held in place by two dental crowns.
What is the Procedure of Getting a Crown?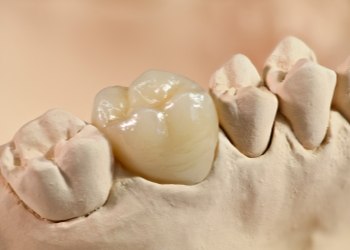 At Morgan-Hill Dental Care, our dentist in Gorham, Dr. Kelsey Hill, is specially trained to craft CEREC same-day crowns in-office, so you won't have to come in for a second appointment. We'll begin by preparing your tooth and removing a small layer of enamel so the restoration can comfortably fit over it. Using our digital impression system, we'll capture measurements and images of your mouth to model your permanent crown from. Within 15 minutes of transferring the blueprint of the crown we crafted to our in-house milling machine, we'll be able to permanently place it.
When you leave our office, you'll be able to enjoy your beautifully restored smile that feels comfortable and strong.
Dental Crowns FAQs
Because dental crowns are one of the most versatile and therefore common treatments in dentistry, you may have heard some misconceptions about the process. You might not be entirely clear on some aspects of the treatment, but don't worry; our team at Morgan-Hill Dental Care is here to help! Below, we've included the answers to some of the most common questions about dental crowns in Gorham that we hear from our patients. To learn more and ask any questions that you don't see answered on this page, we encourage you to contact us and set up an appointment!
Do Dental Crowns Get Cavities?
The crown itself can't get cavities, but the natural tooth underneath is definitely still can. In fact, a crowned tooth has about the same likelihood of becoming decayed as any other tooth. As with natural teeth, the risk of cavities depends on how well you maintain your oral hygiene. Failing to brush and floss adequately makes it easy for harmful bacteria to slip under the crown and attack the underlying tooth, causing decay. This is why regular brushing, flossing, and dental checkups are essential whether you have a crown or not.
Are Dental Crowns Permanent?
Dental crowns are technically not permanent, but they are a durable solution for protecting your tooth. On average, a crown can last between 10 and 15 years – possibly even longer if you take really good care of it.
While a crown itself won't last forever, the changes that we make to a tooth prior to placing a crown are irreversible. Once we have reshaped the tooth and removed the enamel, it will not regenerate, meaning that tooth will need a crown to protect it from here on out. Keep in mind, though, that since crowns shield the tooth from further damage, they might end up helping your tooth last for much longer than it would have otherwise.
What Happens If You Wait Too Long to Get a Dental Crown?
As a general rule, your dentist in Gorham will only recommend a dental crown if your tooth absolutely needs one. If we tell you that you need a crown, you might be tempted to put off scheduling the procedure, especially if your tooth isn't bothering you at the moment, but it's best to get it taken care of sooner rather than later. If your tooth remains unprotected for too long, it will be exposed to biting and chewing forces, food debris, and bacteria that could put it even more at risk. After enough time has passed, that tooth might require a root canal or even an extraction! Getting a crown soon after we recommend it is one way to minimize the chance of needing more extensive dental work down the road.
Does It Hurt to Get a Dental Crown?
Much like with a filling, one of the first steps in the dental crown process is making sure you're fully comfortable and that your mouth is numb. We'll administer local anesthetic to the area so that you don't feel any pain during your procedure. The numbness will wear off after a few hours, which is why we recommend taking an over-the-counter pain reliever, such as ibuprofen, before that point. Your tooth might be a little sensitive or sore for the next few days, but this should be mild and temporary.